Debunking DIY Teeth Whitening Trends: Activated Charcoal, Oil Pulling, and Lemon Juice and Baking Soda
DIY Trend #1: Brushing with Activated Charcoal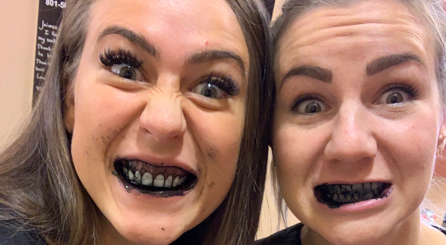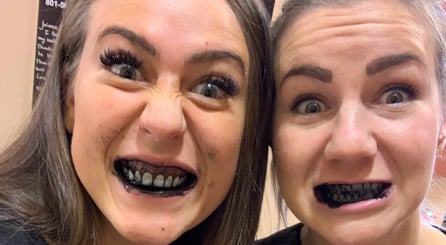 Brushing with activated charcoal leaves big mess, but does it work?
 Dr. Jaimeé Morgan: "My big question is "why?" There's no science to show that brushing one's teeth with activated charcoal is better, safer, or more effective than toothpaste. Additionally, it's a widely known problem among dentists that brushing your teeth with activated charcoal a big mess, but it also likes to settle at the gingival margins. My hygienists then have to go in and scrape it out from the patient's gum line. It's very difficult to get out! In fact, my office manager and hygienist gave brushing with activated charcoal paste a whirl and the results weren't great, to say the least. We even used a plaque indicator after she brushed with the charcoal paste to show us how effective the paste was and the pictures speak for themselves."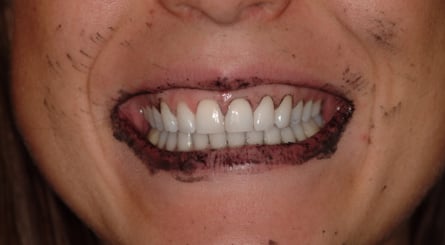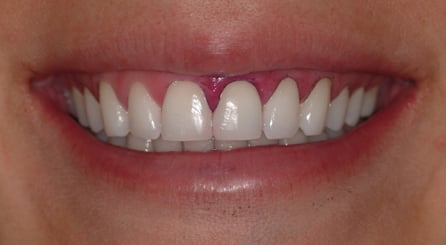 As you can see, after brushing with activated charcoal and rinsing, difficult to remove charcoal residue is left in the patient's gingival margins and on the patient's teeth. Dr. Morgan applied plaque indicator to the patients' teeth after rinsing to show the effectiveness of the charcoal. The purple residue indicates leftover plaque on the patient's teeth.
The only substance proven to actually whiten tooth enamel color is peroxide—both hydrogen peroxide and carbamide peroxide. Although the abrasiveness of the charcoal may help remove existing stains, it cannot actually lighten the color of the tooth. In fact, patients that brush with charcoal risk abrading their enamel too much—something that cannot be repaired once damaged. Furthermore, many people that brush with activated charcoal may experience a kind of illusion that their teeth are in fact whiter due to the contrast of the black charcoal residue (often left in the gums and between the teeth because it is very difficult to remove). This contrast, comparable to wearing a bright red lipstick with blue undertones that makes the teeth appear whiter, is simply a trick that the color of the substance plays on the eye when its placed next to the teeth. Skip the charcoal and go straight for the peroxide or gentle abrasion whitening toothpastes like Opalescence® Whitening Toothpaste, which removes surface stains without damaging or scratching the enamel, along with a professional whitening system like Opalescence® Boost® in-office whitening or Opalescence Go® take-home whitening for guaranteed sparkling results!
Dr. Morgan recommends forgetting about these at-home teeth whitening fads and simply brushing consistently with Opalescence Whitening Toothpaste. Instead of risking enamel damage, Dr. Morgan had her patient brush with Opalescence Whitening Toothpaste to remove the remaining charcoal and plaque indicator, with sparkling results!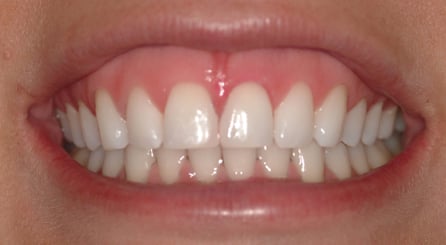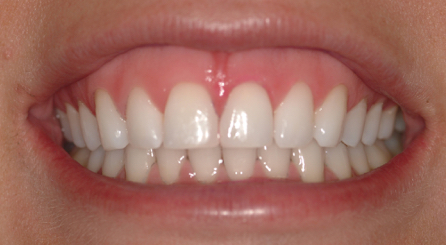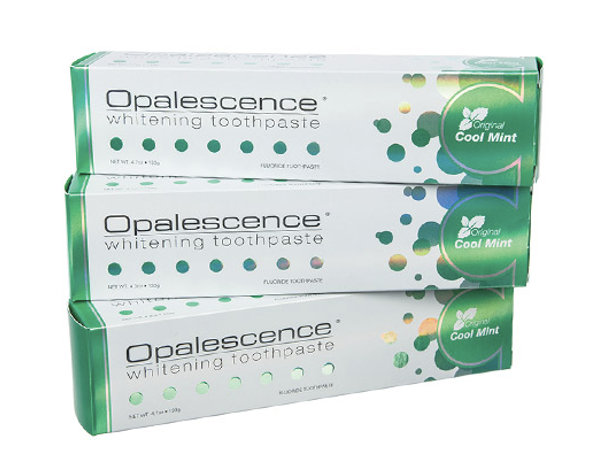 ---